Conway Village
Congregational Church
September 2023
The Good News!
Click here to view or download the full PDF version of the
Pastor's Message ~ A Good and Faithful Servant 
"His master replied, 'Well done, good and faithful servant!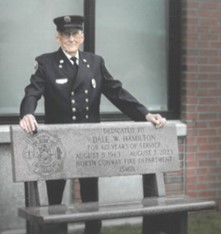 You have been faithful with a few things;
I will put you in charge of many things.
Come and share your master's happiness!'"
Matthew 25:23
Dale Hamilton behind commemorative bench which reads,
"Dedicated to Dale W. Hamilton, for 60 years of service, August 5, 1963 – August 7, 2023, North Conway Fire Department, 15M21 [Dale's Call number for the fire department]"
Congratulations to Dale Hamilton as the longest-serving member of the North Conway Fire Department, who was recognized for 60 years of service on Monday, August 7, 2023. Dale arrived at the recognition and celebration service in a 1937 antique fire truck – – (Dale was 1 year old when the truck was put in service!)
As part of the celebration, a Commendation from the State of New Hampshire, by his Excellency, Chirstopher T. Sununu, Governor, was presented to Dale, which read in part:
"Whereas, during his service, he has seen the growth of the North Conway Fire Department, being there to help along the way with whatever was needed of him to support the department, his fellow firefighters, and the community, and
Whereas, in more recent years, Dale has been the dispatcher and clerk for the department service, as the first voice of the department over the airways, directing the teams where to go and providing reassuring presence on line, and signing every application for the future fire fighters hoping to join the department; and
Whereas, Dale will be greatly missed around the firehouse and by his fellow firefighters, who have all looked to him as a mentor during their careers…"
 For his dedication to the firefighting community, Dale's service is recognized and is greatly appreciated. "Well done, good and faithful servant"!
John G. Hughes <'}}><<<
From the Deacons Bench ~ I Want A 'Better Walk' with My Friend!
As summer is winding down and we're wondering where it went, we enter September. Teachers and stu- dents head back to school. Tour buses, bringing tourists to enjoy our beautiful fall weather and the equal- ly beautiful autumn leaves, become a more common sight in the valley. As I stroll through forest paths and smell the drying colorful leaves in the crisp autumn air, it is easy to think about the Creator God. I say easy because for me to be alone in his beautiful creation and solitude, away from the distractions of my all too often, busy life, I feel closer to God. I meditate and pray as I walk and on occasion, I've even broken into a chorus or two of a praise melody in my private sanctuary.
If you've not tried this, I highly recommend it to you. Just spending time in a peaceful place with God is a wonderful way to talk to and spend time with Him. And isn't that what we need to do to grow our relation- ship with a friend and with God? The more we know a person, the more likely it is that a friendship devel- ops and the more we get to know them, the more time we want to spend with them. And so it goes. We share each other's joys and challenges. The longer the friendship lasts; the deeper the relationship becomes. However, if we don't invest interest or effort into a friendship, over time the friendship most likely will weaken and fade. Lucky for us, God Does Not let us down or give up on us. He is faithful! He doesn't break his promises. He knows our strengths and our weaknesses. He knows our hearts; the good and the ugly. Yet He loves us perfectly!
He is called Almighty God, our Savior, Our Father, the Great Physician and our Friend!
As we think about answering the question: How am I doing in being a friend (disciple) to Christ? How can I improve MY walk with Him? We really need to be INTENTIONAL about this.
So,
1) We answer: PRAYER, of course. How can we be close to Our Father if we don't talk to Him on a regular basis.
2) We answer: READ / STUDY the Bible! Perfect answer! We can't get to know him if we don't.
3) We also answer: Attend WORSHIP and make friends with other Christ followers. Correct, again! Support church activities & mission opportunities to work with others and grow those friendships until you have created a church family to love and support and develop accountability partners. Great Job!! Guess What?
I have a Gift for you! I know that all of you want to have a Closer Walk with Jesus, so, let me tell you about another way you can do this. Would you like to SEE Jesus through the eyes of his followers? The Bible comes to life! You will want to read your Bible more! Let me tell you about "THE CHOSEN". It is a TV show (that will have 7 seasons when complete) about the birth and ministry of Christ. It is on CW- channel 12-Spectrum Sunday at 8pm. Download The Chosen App. to any device including Roku TVs. Any questions, just ask me.
See you in church! God Bless, Judy
Diaconate: Judy Workman and Louise Saxby, Co-Chairs;  Beth Campbell, Dawn Vitters, Nancy Divine
Women's Bible Study Resumes
We will start Women's Bible Study on Thursday, September 7 @ 9:30AM in the Conference Room. We will continue with The Chosen, Season 2, Episode 7. We will hold a make-up viewing session Tuesday, the 5th @ 9:30, in case you missed # 5 (John the Baptist visits, Mary Magdalene is trauma- tized by a visitor, etc.). Also, Wednesday, the 6th @ 9:30 we will continue with # 6 (Peter & Matthew search for Mary, group struggles with lack of food and bad news about John the Baptist, Jesus con- tinues to upset the Pharisees.).
Everyone is Welcome!
Any questions, call the church office to let me know. Judy
Katherine Rhoda, Guest Musician
The Brown Church was so blessed to have Katherine Rhoda be our guest musician at our Worship Service, Sunday, July 31st. Katherine grew up in the small town of Milo, Maine. She began playing on her Great Aunt's piano as a very young girl until her parents bought one for her at a Lion's Club auction for
$1. She began her career in 1st grade when she started piano lessons. Shortly after, Katherine taught herself to play the guitar that had been purchased with S&H Green Stamps. She sang at every opportunity accompanying herself!
She studied music at Oberlin College. She continued a very interesting and diverse musical career:
♪ Singing in the Paris subway & elsewhere
♪ Recording film music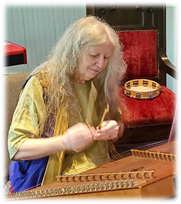 ♪ Boston's Lithuanian Ethnographic Ensemble Sodauto
♪ Joining the People's Music Network
♪ Performing at New England Folk Festival and more
♪ Being a folk/world music DJ
♪ Serving as a church musician and leading musical activities in nursing homes
♪ Sings, plays a variety of stringed instruments: Marxophone, violin-guitar, hammered dulcimer, accordion, flute, ukulele and many more.
The Brown Church is happy to announce that Katherine will also be the guest musician for the October 8th Worship Service 10AM. We hope that you will be able to join us and enjoy the lovely, unique instru- mentation that Katherine Rhoda brings to the worship experience.
From the Trustees
Well, it seems we managed to get through this rainy Summer without the need to build an ark. Have you ever noticed that the structure of our sanctuary ceiling resembles the hull of a ship? This is not by chance. The Nave is the central part of the church building, intended to accommodate most of the congregation. Nave (like navy) derived from the Latin "navis" for ship. The ship symbolizes the church as a whole, on our earthly pilgrimage, making safe passage through the stormy waters of the world, with her experienced pilot Christ at the helm, she transports the faithful safely to their heavenly home.
We are grateful for the donations we received thus far for the Trustee Appeal. As of August 18th, we had received $10,050. We were able to purchase the new cooler/refrigerator for our Fryeburg Fair booth. Those who work the booth will appreciate not having to try to slide the doors on the old beverage cooler we had been using for many years. We were also able to have the roof repaired, it is a temporary repair, which will at the very least get us through the winter. Our last temporary roof repair has lasted about ten years. Thanks be to God. There are still several items on the list that require funds to purchase or repair. We hope you will prayerfully consider a donation.
Thank you to Curt Reynolds and Carl Vitters for leading us in worship as lay leaders during John's much needed vacation. John may now need to come back to take a break from the grandchildren. A lot of preparation goes into leading worship and delivering a sermon. Their messages were well presented and well received by the congregants. We would also like to mention the joy that filled the sanctuary with live music on July 30th Katherine Rhoda accompanied hymns on the keyboard, lifted her voice in song and raised the wonderful notes of the Dulcimer and Marxophone. Thank you to the Diaconate and Music Committee for scheduling Katherine. We look forward to her visiting us again in the Spring.
Thank you to our tech team, Steve Graustein, Dawn Vitters and Nancy Irving for keeping our church connected via email updates and zoom worship services. We will be adding new sound equipment to the sanctuary to enhance the worship experience both in the sanctuary and on zoom.
As Trustees we are entrusted with keeping the church solvent and structurally sound. Our congregation is not financially capable of supporting the building and the Church's operating expenses solely by our tithes and donations. In order for us to keep the doors of the church open and able to serve our community we depend heavily on fundraising events.
Our biggest annual fundraiser is the sale of our famous Apple Crisp at the Fryeburg Fair. This takes well over one hundred volunteer time slots. We will start processing the apples on Tuesday, September 26th. Baking will commence the next day, both will continue with morning and evening shifts every weekday through Thursday, October 5th.  We would greatly appreciate your help. Here is the link to the online sign-up form ( https://volunteersignup.org/JMQLL ) or you can sign up at the church. If you are not able to commit to a full time slot as they are listed that is fine, even a couple of hours is very helpful. We also need coverage at the booth at the fairgrounds. These slots are a commitment to a full shift. There are two shifts daily, October 1st through 8th, the early shift 11AM to 4 PM and the late shift from 4PM to 9 PM. Thank you to those who have already signed up.
Don't forget to mark your calendar for our December 2nd Christmas Fair and Tree Lighting event. We are hoping to make this a village-wide event this year, with other local Conway Village shops holding special Christmas events that day or weekend also. If you own, or have a connection with, a business that would be able to donate a prize for our pick-a-prize auction, or if you would like to donate or sponsor a gift basket, please contact Dawn Vitters or Nancy Irving via email to cvccwebteam@gmail.com.
Board of Trustees: Chair: Anne Getchell, Asst. Chair: Nancy Divine, John Edgerton, Duddie Andrews, Nancy Irving and Tom Workman, ex officio member, Treasurer
Council Connections
Summer is beginning to come to an end. School will be back in session soon. Quite a few things have happened this past month. Pastor has been away on vacation and off on a witch hysteria weekend down in Massachusetts. Curt Reynolds and I have filled the pulpit on those four Sundays. Thank you,
Curt for covering the two Sunday's.
Income was strong this past month, but not enough to cover all the bills. Another $5,000 was drawn from the endowment account. To date that makes $27,000 that has been withdrawn from the en- dowment account. Hopefully, we can make it to the Fryeburg Fair income without drawing out any more funds. The Trustee Appeal has done remarkably well. It has drawn in $10,050 to date. If we can raise another $3,000, we will have covered all the pressing repairs and purchases that were unbudgeted.
The good news that came this past month was that Rodd Roofing was able to go up on the roof and repair the repair, all for only $750. We have purchased the new two door cooler for the fair. The council chose the type of carpeting for the classroom and are awaiting the estimate from J&J Flooring. We will see what the cost of the carpeting is compared to vinyl plank flooring, and will weigh the pros and cons of each product and see which will be the best surface to put down. The trees that need to be re- moved at the parsonage are scheduled for September and the electrical work will proceed once we get the money. Thank you to everyone that was able to scrape together some funds to be able to contribute to the Appeal.
Fryeburg Fair is coming up very soon and the sign-up sheets to volunteer both at the church and out in the booth are up in Fellowship Hall waiting for your eager signing. I can't express how important it is for the fair to be very successful this year. We need your help. We can't do the fair without your help. If the fair doesn't happen, then we could ultimately use up all the endowment funds this year.
So PLEASE, sign-up! Sign-up as soon as you can because if it comes down to the week or so before the fair, and slots aren't filled, the stress level on those organizing the event ,as well as the few volunteers that have signed up, is truly unfair. You have plenty of time to set the fair dates aside and be available to assist the church in this most important fundraiser of the year. Thanks in advance for your participation.
The deacons are looking for some help as well. The Council unfortunately cannot provide all the help that they need. They are looking for some people that would be willing to read the one Bible scrip- ture on a given Sunday. Right now, there are only four deacons and one is part of the tech team that as- sists in the zoom platform. Another thing that would take some of the work load off of the Deacons would be someone who likes to send cards to people. You know, that old fashioned tradition of writing on a card and sending it out to the person who is having a birthday, anniversary or is in need of comfort. If you are
interested and would be willing to help, contact Louise Saxby, Judy Workman or Dawn Vitters. You do not have to be a deacon to fill this position.
Blessings to all,
Carl F. Vitters, Moderator
Food Pantry Wish List
Ramen Noodles-Chicken or Beef
Rice-A-Roni-Chicken or Beef
Ketchup – 20 oz.
Mustard – 20 oz
Mayo – small jar
Stable Milk box – 20 oz.
Juice – Orange or Apple – 64 oz.
Small Soup – Chicken Noodle or Tomato
Jelly – Grape or Strawberry-16 oz.
Small canned Chicken or Tuna-5 oz.
Baked Beans – 15 oz.
Tomato Sauce – 15 oz.
Beef Stew – Canned – 15 oz.
Boxed Crackers – 1 lb.
Boxed Spaghetti – 1 lb.
Canned Veggies – Peas, Carrots-15 oz. Instant Oatmeal – 1 lb.
Paper Towels
Toilet paper – individually wrapped
Shampoo – White Rain or Suave-24 oz.
Dawn Dish detergent – small size