December 2022 Newsletter
~ The Good News ~
Please click the button below to open or download the full (pdf) newsletter.
Newsletter articles and highlights are published below.
An Advent Theme for 2022
This Advent Season, which starts Sunday, November 27th, will begin Year A for the Church Lec tionary. The Lectionary is a 3-year reading program so the main themes of scripture are covered. This sea- son we will be breaking with normal pattern (which we have followed for the past 5-years) to offer an Advent Theme, "What Do Angels Do … Really?" It's a chance to see how "God's Messengers", prepare the faithful so the revelation of Christmas can take place.
During Advent we will look at how angels interact with Zachariah (father of John the Baptist), Jo- seph, Mary, shepherds in the fields, and finally, the angel who protects the Holy Family against "the Slaugh- ter of the Innocents". The theme will take place on all 4-Advent Sundays, Christmas Eve and New Years Day.
Sunday, November 27th – 1st Advent                             
Psalm 122
Luke 1:5-25
Luke 1:57-66
Theme: "An Angel Strikes Out "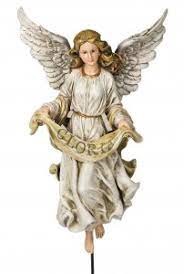 Sunday, December 4th – Communion – 2nd Advent       
Psalm 80:1-7, 17-19
Isaiah 11:1-10
Matthew 1:18-25
Theme: "One Dreamy Angel"
Sunday, December 11th – 3rd Advent                                 
Psalm 146
Luke 1:26-38
Luke 1:46-55
Theme: "Utterly Aghast by an Angel"
Sunday, December 18th – 4thAdvent                                
Psalm 24
Luke 2:8-15
Luke 2:16-20
Theme: "Angels Sing in Darkness"
Saturday, December 24th – Christmas Eve                   
Psalm 96
Isaiah 9:2-7
Titus 2:11-14
Luke 2:1-14
Theme: "Presenting a God in a Manger"
Sunday, December 25th – Christmas Day,                  
Psalm 98
Sunday, January 1st, 20223– New Year's Day – communion                                                                                               
Psalm 8
Matthew 2:13-23
"Get Up! Get Out!"
Looking forward to a wonderful Advent Season,
Rev. John Hughes           December 2022
Christmas is Coming
Ah yes . . . Christmas is almost upon us and now, for many of us, begins the panic! What gifts should I buy for certain individuals, be it family or friends. Every year it seems to become more hectic. With the soaring prices, this Christmas will be a test of our imagination and most of our budgets. How can we survive the coming days? Oh dear me!!
If you're like me, this probably is how you feel every Christmas. How dreadful is it that we approach this glorious Holiday Season in this way. Shouldn't Christmas be a time of peace and good will? How shameful it is that amid all the hustle and bustle we tend to forget the true meaning of Christmas – the celebration of the birth of our Lord Jesus Christ who was born to give us grace and salvation.
Truly, the birth of Jesus, so many years ago, should be front and foremost in our minds. Just think how awesome it must have been for those three wise- men to follow a super-bright star and finally arrive at the birthplace of the Christ child. Wouldn't we all feel so sanctified and amazed to have witnessed such a memorable and sacred event? I certainly would.
Sure Christmas should be a time of giving. Still, it should not be the primary aspect of our Holiday Season. What has happened to the Christmas' of yore when good people concentrated on inviting friends and neighbors (especially the poor) to come in and enjoy a lovely dinner, then gather around the fireplace and simply sing carols? What is more beautiful than that?
Remembering my own Christmas' as a child I'm aware that Christmas is really a very significant aspect of a child's life. Firstly, children come to realize how good it feels to give. Secondly, how good it feels to receive. I recall how spe- cial I felt when Santa came on Christmas eve and left the toy I had asked for and bet of all, how our mother always managed to fill our stockings (7 or 8) with candy, cookies and school supplies topped by a big, juicy orange. I recall how my heart filled with pride and thankfulness. I remember feeling valued and loved – something I didn't experience everyday growing up with seven older siblings.
Aside from all of the above, the high-points of my early Christmas' was when mom read "The Story of Christmas" as we all huddled around the "parlor" wood- stove. That part of our Christmas never got old. Isn't simplicity delightful?
Christmas should be a day when a child can feel thankfulness, pride and a sense of belonging . . . . . . a day when a child gets to know Jesus and why He died on that cross so many years ago.
For adults a little gift on Christmas Day is always a nice gesture and one that is always appreciated. But, very often, most of us allow our shipping sprees to su- persede the glory of the Holiday Season. Do any of us really need more clothes and stuff? Now that I don't have small grandchildren the part of Christmas for me is attending service at church, a glass of wine, lots of food and simply sitting around the table chatting and laughing with friends and family. Who needs more than that?
Here at the Conway Valley Brown Church we see the Christmas Spirit prevail throughout the entire year ~ the Food Pantry, the Dinner Bell, Outreach and so on ~ all made possible by dedicated volunteers and faithful churchgoers.
So this Holiday Season let's try to ignore all the hype and commercialization and fill our hearts with love and goodwill.
A Blessed and Joyful Christmas to all!
Mary Russo