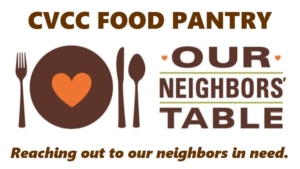 The Outreach Committee manages the Food Pantry to assure the larger Conway area and the towns of Albany, Eaton and Chatham are provided with food for those in need. The Pantry is our biggest outreach project and is open on Tuesdays from 9:00 to 11:30 am.
The Dinner Bell is open to all who wish to take advantage of a delicious free dinner and visit with the community.
As a community gathering place we provide space for many groups to meet.  Several Alcoholics Annonymous groups and an Al-Anon family group meet weekly at The Brown Church.
The 68 Hours of Hunger Program supports children who are unable to have a stable source of food over the weekends. Many of these children are homeless and move from house to house to gain shelter. The CVCC Outreach Committee provides food to the liaison at Conway Elementary School to assure these students will have something to eat from Friday afternoon to Monday morning.