Conway Village
Congregational Church
May 2022
The Good News!
Click here to view or download the full PDF version of the
Spring Event Saturday May 21st
The Spring Event will include: Plant Sale, Bake Sale, Yard Sale, Crafts and Luncheon.
Yard Sale items wanted!
Please donate items in good condition!
We are asking for household items in every category EXCEPT clothing, electronics, and upholstered furniture. Items can be brought to the church during business hours up until May 20th, please call the office, 603-447-3851, to arrange drop off location & time. Any other questions can be answered by calling Louise 603-662-7440.
Feel free to ask your family and friends to consider donating to our cause – useful items in good condition please!!
Bake Sale Items needed!
Please consider baking some items for the Bake Sale. A sign up sheet, will be provided at a later date.
Thank you, your support is greatly appreciated!
From the Trustees
Coming up, Sunday, May 1st,a Special Meeting to discuss options to the seating  and layout of the sanctuary. This meeting is a follow-up to the surveys received. The Capital Campaign Committee now needs to get proposals for design work, which is
to include these specific details. Please plan to join us in church or on zoom. We would love to see you in the Sanctuary to test out a chair and to get a better idea of the proposed layout.
The trustees continue to monitor the finances weekly. We have just come off a tough winter with the high costs of plowing and sanding, heating oil and a new hot water heater in the parsonage. These costs were quite a bit higher than budgeted. Each week, the amount we collect from pledges, the plate and online are critical to paying all the bills and payroll. Giving on a regular basis helps with the cash flow and we appreci- ate everyone's contribution.
May 21st Spring Event 9- 2. We are planning yard, plant and bake sales, along with a BBQ lunch. There will be a book table this year and we are looking forward to having Bob Bernhardt and Charlyne Grey sell their creative work.
You can help by signing up to bake, help at the event and donate yard sale items. You can call the church office to sign up.
Trustees:
Co-Chairs: Anne Getchell,  Nancy Divine
Duddie Andrews,  John Edgerton,  Nancy Irving,  Paul Weld, Tom Workman
Ex-officio member Carl Vitters – Church Treasurer
Join us for Bible Studies.
Women's Weekly Bible Study meets Thursdays at 9:30 am
Men's Weekly Bible Study meets Fridays at 9:00 am
Both groups meet in the Church Conference Room located downstairs next to the church office.
Zoom access is available.
If you would like to more information on either group, please call the office at 603-447-3851 or email  info@thebrownchurch.org
Outreach ~ Food Pantry
The Outreach Committee is doing another mission. On the 16th of June, the 21st of July and the 18th of August, we will partner with Habitat for Humanity to provide lunch for the 25 men and women who will be working on a house in Edelweiss.
We will be providing egg salad, chicken salad, and tuna salad sandwiches, coleslaw, chips and cookies. We have all the fixings for the sandwiches, what we would like to ask from you, the congregation, is help with making coleslaw, and donations of small bags of chips and cookies. We have help with putting together the sandwiches.
If you would like to donate to this wonderful mission, please see any of the Outreach Members, or you can drop off at the Church on Monday June 13th, July the 11th and August the 15th.
Thanks to all from the Outreach Committee
Chair: Sylvia Weld
Anne Getchell, Charlene Gray, Laura Sorenson, Dawn Vitters, Paul Weld
NOTICE OF SPECIAL MEETING
TO: All Members and Friends of the Conway Village Congregational Church
A Special Meeting of the Membership of the Conway Village Congregational Church will be held on Sunday, May 1st, 2022, at approximately 11:00 am in the Sanctuary of the Con- way Village Congregational Church following worship. The meeting will be held in per- son and via Zoom platform. Voting will be done via roll call method. Please email
cvccwebteam@gmail.com or call the office for the phone in information. The purpose of this Annual Meeting will be:
To discuss and determine the sanctuary
To conduct any other business that may come to the floor of the
Dated at: Conway, New Hampshire, on the 22nd of March 2022 Dawn Vitters, Clerk
Diaconate Message
We are blessed! Over the last 2+ years the entire world has changed and everyone is navigating the new normal…
Our congregation has worked very hard to stay connected; our "web team" Steve, Nancy I. and Dawn have worked tirelessly improving our zoom experience. 108 + zoom services provided so far!
There is a separate group that spends hours coordinating the weekly music to match the scriptures and sermon. They consciously strive for a balance between traditional and contemporary.
Music is an integral piece of worship.
Psalm 96
"1 Sing to the Lord a new song;
sing to the Lord, all the earth.
2 Sing to the Lord, praise his name;
proclaim his salvation day after day."



As we look forward, a priority is improving our music experience. Adjusting for in person and on Zoom worship requires using a keyboard. Modern keyboards are capable of providing a variety of music including what we are familiar with, piano and the pipe organ. Constructive feedback is appreciated.
Please keep in mind technical issues due to the internet connection are beyond our control.
Diaconate: Louise Saxby, Chair;  Beth Campbell, Secretary;  Dawn Vitters, Treasurer;   Judy Workman, Mitzi Fitch, and Suzanne Rancourt
Mask Policy
The church leadership has changed the mask policy for the church.  As of  March 6th, masks are no longer required if you are fully vaccinated.  If you are not fully vaccinated, we ask that you still wear a mask and social distance yourself from others. If you wish to still wear a mask in church that is totally up to you and if you wish to be social distanced from others just let the usher of the day know. We will be happy to seat you in an area away from others."
If you have any questions, please see a member of the Trustees or Diaconate.
Thank you, the Church Leadership
Boston Post Cane awarded to 102-year-old!
 Anna Hill, 102 years young and longtime CVCC member, is presented with the Boston Post Cane! Pictured here with Selectman John Colbath.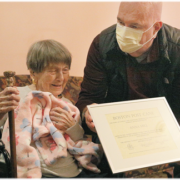 A tradition dating back to 1909, the gold–headed cane is presented to the town's oldest citizen of towns around New England.




Photo: Rachel Sharples
A Solitary Evening
In the quiet of an evening when the day is done,
And you gaze out your window at the setting sun,
Do you sit and reflect on deeds done that day
And hope you did something-not waste it away?
In the silence of an evening when all becomes still,
When memories of the past your mind wants to fill
Do you think of loved ones in Heaven above,
Does your heart overflow with goodness and love?
In the stillness of an evening when you sit all alone
When Nature is resting and birds cease their song.
Do you feel melancholy and just a bit sad
For things left undone in the time that you had?
In the twilight of an evening when darkness is near
Did you make someone smile, did you ease someone's fear?
Are you pleased with your efforts to do what is right
As you lie in your bed-say your prayers every night?
In the shadow of an evening when alone you abide
Are you thankful to know that God's by your side?
Has your day been fulfilling, are you glad to be you,
Do you feeol the Lord guides you in all that you do?
In the closing of an evening when twilight is nigh
And the stars slowly draw the curtain of night,
Do you feel in your heart your best you have shared
That you lived, you loved and you cared?
So make your evenings a time to recall
All the things you accomplished-no matter how small.
Mary Russo
May Worship Schedule/Lectionary
Sunday, May 1st, 2022                    Communion Sunday
Psalm 30
Acts 9:10-20
John 21:4-14
Sermon: "Dare not Ask"


Sunday, May 8th, 2022                   Mother's Day
Psalm 23
Acts 9:36-43
John 10:22-30
Sermon: "Being Well Known"


Sunday, May 15th, 2022                    
Revelation 21:1-6
John 13:31-35
Sermon: "Let the Thirsty Drink Fully"


Sunday, May 22nd , 2022
Psalm 67
Acts 16:9-15
John 14:23-29
Sermon: "Moving Forward with a Dream"


Sunday, May 29th , 2022              Memorial Day Sunday
Psalm 97
Scripture  TBD
Scripture  TBD
Sermon: "TBD"