Click here to view or download the full PDF version of the
Conway Village
Congregational Church
December 2021
The Good News!
Pastor's Message
When Can We Sing?
"When can we sing?" … "When will it be safe?", are questions people ask me constantly. The new guidelines are that we can have live music played or a choir sing if they are 12 feet away from the congregation and 3 to 6 feet away from each other. Confusing, isn't it? Covid-19 protocols ask us to be flexible in planning for Christmas Eve.
We are planning to hold Christmas Eve Worship Services, for those who wish to gather, and those who wish to view virtually on Zoom at 5 p.m. and 6:30 p.m. We will be asking people to register for Christmas Eve Service in advance, leaving their contact information (name, phone #, and email) at the door when they attend, and get a squirt of Purell ® before entering the sanctuary, and wearing masks for the duration of the service, which will last about 30 minutes. We can only host about 50 people live on at each service Christmas Eve, so early registration is requested, so we can determine who will be attending each service on Friday, December 24th.
Registration will need to be made by December 17th, online www.thebrownchurch.org or by phone at the church office (603) 447-3851.  We look forward to celebrating this joyous season with you and your family.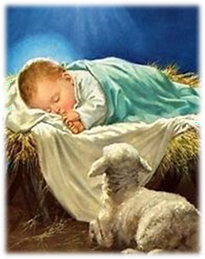 The service(s) for Christmas Eve will be the traditional service of "Lessons and Carols", with a brief Christmas reflection. People may feel free to sing the familiar carols (from behind their masks), candles will be offered at the service – – they will, of course, be battery-operated, as a live flame with cloth masks is not a good idea!
We ask, that in the Spirit of Christmas, everyone be understanding (and compliant!) so a gift of Christ-like Spirit may be enjoyed by everyone. If you feel unwell, or have hesitation about gathering live, we look forward to you worshipping with us online.
Blessings in the name of the Babe-in-a-Manger,
And looking forward to Christmas Eve,
Rev. John Hughes
Outreach ~ Food Pantry
November was a very busy month in the Food Pantry. Along with our regular pick-ups, Shaw's, Walmart on Mondays, Food Bank on the 1st Thursday of the month and USDA on the 2nd Thursday of the month. As well as Food Pantry every Tuesday.
It started on the 13th picking up Turkeys and side dishes for the Pantry and Dinner Bell. The van came back to the Church very full. Then the outside of the pantry got ready for winter, plastic and boards were installed to protect snow from building up on the ramp.
On the 16th and 17th we gave out Thanksgiving Baskets, without the Turkey. It was decided to give the clients a voucher worth $15.00 toward a turkey. The pantry did give out the side dishes along with potatoes, onions, fresh carrots and rolls. The 18th we received a USDA shipment, this is a change due to Veteran's Day is on the 2nd Thursday.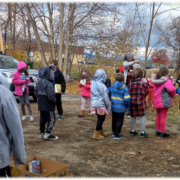 On the 19th the Conway Elementary students paraded across the lawn, up the ramp and into the Pantry to drop off 1,136 lbs. of food that they collected. It's always a fun time to see the excitement on their faces along with them being so proud that they had collected that much food.
On the 23rd the Realtor's dropped off 10 all ready made up baskets for any last minute clients that need a turkey basket. After that, all took a BIG sigh and enjoyed a Blessed Thanks- giving with family and friends.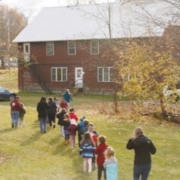 On the November 30th, we will have our Outreach Meeting at 3:30 in person at the church.
Thanks goes to Shaw's, Walmart and Sherman's Farm Stand. We were also the recipients of $1,000 from NH Feeding NH, which we spent at Sherman's Farm Stand over the summer and into fall. We had a lot of fresh items along with milk and meats.
The Food Pantry takes this time to be Blessed with an awesome bunch of volunteers with all of them the Food Pantry would not run like a well oiled machine. Thank you and God Bless you all.
We are always looking for help in the Pantry on Tuesdays as well as the deliveries we get. Just let either Sylvia or Paul Weld know.
We want to extend to all a very Blessed Thanksgiving. Take time with your families and en- joy the day.
Exciting News for our Food Pantry!

For the Month of December buy this bag & CVCC Food Pantry receives a $1 donation!
Each time a $2.50 reusable FIGHT HUNGER BAG is purchased at the North Conway Hannaford store $1 will be donated to the CVCC Food Pantry.
Spread the news to friends and family. The more people who learn about the program and purchase the Fight Hunger Bag during the month of DECEMBER, the more money will be raised. To learn more about this program, please visit https://hannaford.bags4mycause.com/
Thank you!
Outreach Committee
Chair: Sylvia Weld
Anne Getchell, Charlene Gray, Charles Monaghan, Laura Sorenson, Dawn Vitters,
From the Deacon's Bench
December brings such short days along with increased frustration I have each year with the commercialization of the holidays. This year the fear of shortages & delivery issues has been added to the mix, increasing stress.
Then about a week ago I was driving home in complete darkness at 4:30pm "O little town of Bethlehem" started playing on the radio. As I began singing along, I felt my mood shift, as I was overcome with the feeling of joy. It was then that I realized that "early" music and decorations could bring a welcome and much needed light.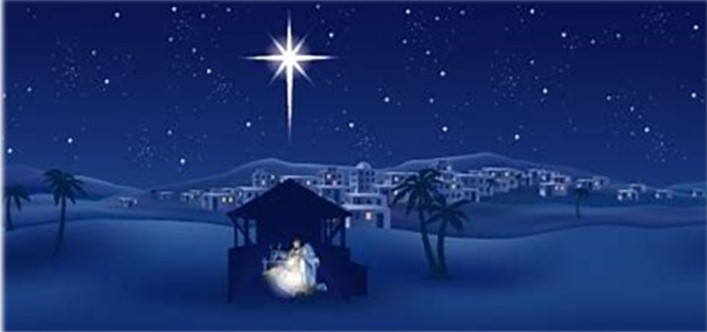 As we face another holiday under the cloud of the pandemic may this season wake up the child in all of us. Let us celebrate the birth of Christ with the wonder, joy and hope that this ultimate gift from God represents.
Beth Campbell
Diaconate:  Louise Saxby, Mitzi Fitch, Judy Workman, Dawn Vitters, Suzanne Rancourt, Beth Campbell
From the Trustees
Volunteers  …….are so important to the church.
You will see them weekly, helping out in the Food Pantry, the Dinner Bell and most recently the November Take Out dinner.  There are behind the scenes volunteers who run the weekly Sunday ser- vices in house and online.
There are opportunities to help out if you are interested.
The next event is the take-out Turkey Dinner December 15th. These dinners have been very successful and are needed to help support the church budget. An online volunteer sign up will be coming out in early December or you can call the office. Thanks in advance to all.
The Trustees continue to work with the architect and Bergeron  Technical Services. We are working on renovation details room by room which will help us refine cost estimates.
We are finalizing the 2022 operating budget. Your pledges for the upcoming year help us with that process. If you have not made your pledge for 2022, please do so soon.  If you need a pledge card, you can contact the church office.
The Annex (old jewelry store) will be demolished, likely before the end of the year. After many discussions with Shawn Bergeron, it was determined that the building is a hazard and the cost to renovate the building for use would be cost prohibitive. The removal of the building will also improve access to the food pantry and parking out back.
Thank you to all the Trustees and those on the Capital Campaign for volunteering their time week after week.
Trustees:
Chairs: Anne Getchell, Nancy Divine
Duddie Andrews,  John Edgerton,  Nancy Irving,  Paul Weld,  Tom Workman
Ex-officio member Carl Vitters – Church Treasurer
When Earth's Last Picture Is Painted                     
Rudyard Kipling, 1892
When Earth's last picture is painted and the tubes are twisted and dried,
When the oldest colours have faded, and the youngest critic has died,
We shall rest, and, faith, we shall need it – lie down for an aeon or two,
Till the Master of All Good Workmen shall put us to work anew.
And those that were good shall be happy; they shall sit in a golden chair;
They shall splash at a ten-league canvas* with brushes of comets' hair.
They shall find real saints to draw from – Magdalene, Peter, and Paul;
They shall work for an age at a sitting and never be tired at all!
And only The Master shall praise us, and only The Master shall blame;
And no one shall work for money, and no one shall work for fame,
But each for the joy of the working, and each, in his separate star,
Shall draw the Thing as he sees It for the God of Things as They are!
*a league = 3 mi. and 10-leagues = 30 miles
30 miles being how far a man hikes in a 10-hr. day
Chamber Honors Award Recipient
Barbara Hoyt, our long-time Dinner Bell Head Chef & Co-Ordinator, was honored as thi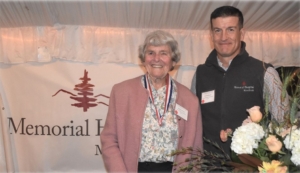 s year's "White Mountain Treasure" and received an award from Memorial Hospital President Art Mathisen.
Barbara has been a "major but unseen force behind the Dinner Bell, operating out of the Conway Congregational ("The Brown Church") Church for more than 35 years." The very first "Dinner Bell" was on Monday, January 15, 1991. Almost 31 years of serving our community!
"I accept this on behalf of all of our volunteers……….. I am so thankful to be able to keep this going," said Barbara.
Congratulations to all the volunteers that make the Dinner Bell possible!
Veterans Day Ceremony
Veteran John Edgerton and Karl Chandler perform the flag-folding at the Veterans Day Ceremony in North Conway's Schouler Park after a parade from John H. Fuller Elementary School to the park on Thursday, November 11th.
 ~ Food Pantry Needs List  ~
Food Pantry Wish List 1
Ramen Noodles-Chicken and or Beef Rice-A-Roni-Chicken or Beef
Ketchup – 20 oz.
Mustard – 20 oz
Mayo – small jar
Stable Milk 32 oz.
Juice – orange or apple 64 oz.
Chicken Broth
Soup (small) – Chicken Noodle or Tomato
Canned Fruit -15 oz – any kind
Jelly – 16 oz. grape or strawberry
Canned Chicken and Tuna 5 oz.
Food Pantry Wish List 2
Canned Chicken and Tuna 5 oz.
Baked Beans – 15 oz. – any kind
Canned Pasta – 15 oz., any kind
Diced Tomatoes – 15 oz.
Tomato Sauce – 15 oz.
Pasta Sauce – (can) 15 oz.
Pasta Sauce – (jar) 32 oz.
Beef Stew – Can or Pouch
Boxed Spaghetti – 1lb.
Boxed macaroni – elbow 1lb.
Crackers – 1lb.
Food Pantry Wish List 3
Canned-Peas, Carrots, Green Beans, and corn – 15 oz.
Cold Cereal – 10.8 oz any kind
Instant Oatmeal – 1lb.
Paper Towels
Toilet paper – individually wrapped
Shampoo – White Rain or Suave – 24 oz.
Dawn Dish Detergent- small size
Laundry Detergent – Tide-small size
Lg. Laundry Detergent – Dollar Tree brand in green container
Hand Soap – Dial 2 or 3 pk bars

Advent Worship Schedule
Behold, Prepare, Sustain, Reflect, Proclaim
Sunday, November 28th – Advent Sunday
Psalm 25:1-10,  Jeremiah 33:14-16,  Luke 21:25-36
Sermon: "Great Changes are Coming"
December 5th, – 2nd Sunday of Advent 
Malachi 3:1-4, Luke 1:68-79, Luke 3:1-6
Communion
Sermon: "Prepare the Way to the Future"
December 12th – 3rd Sunday of Advent
Isaiah 12:2-6, Philippians 4:4-7,  Luke 3:7-18
Sermon: "Sustain the Work"
December 19th – 4th Sunday of Advent
Micah 5:2-5a, Luke 1:46-55, Luke 1:39-45
Sermon: The Annunciation of God's Presence"
Friday, December 24th Christmas Eve
Services 5:00 PM & 6:30 PM
Psalm 96, Isaiah 9:2-7, Luke 2:1-20
Sermon: "Proclaim the Birth!"
Sunday, December 26th –
Psalm 8, Ecclesiastes 3:1-13, Revelation 21:1-6a, Matthew 25:31-46
Sermon: TBA Carl Vitters Guest Preacher