Conway Village
Congregational Church
May 2023
The Good News!
Click here to view or download the full PDF version of the
Come One ~ Come All
The Brown Church is planning a big Spring Event,
An all-day experience – I'll give you a hint . . . .
We'll have something for everyone, no matter what age,
So please mark the date on your calendar page.
We'll have a nice bake sale to tickle your tummy,
Lots of cookies and brownies, all of them yummy!
Cakes and pies sold one-serving or whole.
We want to please everyone, the young and the old.
The Bible Class ladies will have plants galore.
All potted at prices not found in a store.
We'll have crafts of all kinds to dress up your home,
To fill a dull corner or enhance any room.
The yard-sale will be one for all to explore,
Come search for that treasure you've long hunted for.
For the kids this will be a time for great fun
With plenty of room to hide and to run.
So the Little Brown Church on the date of May 20
Will welcome you all with blessings aplenty.
We do hope to see you, bring your friends in a bunch,
You'll have a wicked good time – including a lunch!
~Mary Russo
Pastor's Message ~ Home Visits
"When you enter a home, greet it.
If the home is worthy,
let your peace come upon it."
"the Mission of the Disciples"
Matthew 10:12
The Gospels are a journaling of oral stories which the early church found foundational to the faith.  It tells us what Jesus taught, why he died to bring salvation to the faithful, how he changed the lives of the earliest believers.  It is a stream of God's relationship with ordinary people.  It is a people-to-people collection of rich, enduring stories.
In the coming months, pastoral visits to the homes of our members will begin.  The Covid-19 pandemic prevented me from making visits to ensure everyone's health and welfare.  Now as we find ourselves in a "post-pandemic" time, it is now safe for visits to members' homes.  It is an important function of the ministry to do home visits as it brings a rich perspective that informs the ministry in a unique way.
As a minister visits homes, he picks up special perspectives as to what the church means to its members.  People share personal stories of how they came to be involved in the church, their concerns for others in their lives and neighborhoods, and offer people they wish held in prayer.  Some will want to schedule baptisms which could not be safely performed during the pandemic but now are possible.  Visits enrich what the Brown Church is.  It does what the Gospels at their best offer – – it collects the stories of God's relationship with the faithful.
Later this month, a visit schedule will be set up and times offered to come and visit.   Hopefully, we can find a mutually helpful time for a visit.  Some of you have already received me in your homes and I appreciate your offering your hospitality to me and sharing your perspectives and stories.  As of the printing of this newsletter, only a third of members have been visited.  I look forward to being able to meet with everyone wanting to have a visit in the coming months.
In Advance, I thank everyone for their generosity, in opening their hospitality and homes to me,
Rev. John Hughes
Diaconate Message
Welcome Spring!!
April showers are bringing May flowers–spring bulbs are popping up. Grass, trees and shrubs are greening up!!  Hooray!!  We're looking forward to celebrating Spring with our Fling!!
May is also an important month in the Christian calendar. Forty days after Christ's resurrection (May 18th this year), we remember Ascension Day-when Christ ascended to be with Father God.  Then the last Sunday of the month-50 days after the resurrection-marks the beginning of the Christian Church's mission to the world-Pentecost. This is the day that we celebrate when Jesus sent the Holy Spirit down on the disciples and all believers. In the following scripture, Jesus addresses both of these upcoming events with his disciples after his resurrection.
Jesus Appears to the Disciples in Jerusalem
"Then he said, "When I was with you before, I told you that everything written about me by Moses and the prophets and in the Psalms must all come true." …And he said, "Yes it was written long ago that the Messiah must suffer and die and rise again from the dead on the third day.  With my authority, take this message of repentance to all the nations, beginning in Jerusalem: "There is forgiveness of sins for all who turn to me.' You are witnesses of all these things.
And now I will send the Holy Spirit, just as my Father promised. But stay here in the city until the Holy Spirit comes and fills you with power from heaven."
 Jesus Ascends into Heaven
Then Jesus led them to Bethany, and lifting his hands to heaven, he blessed them.  While he was blessing them, he left them and was taken up to heaven.  They worshiped him and then returned to Jerusalem filled with great joy.  And they spent all of their time in the Temple, praising God.             Luke 24: 44, 46-53
We truly have a lot to look forward to in May. We have opportunities to serve leading up to and during the Spring Fling. Let's work together to make it a successful day & provide more funds to further the mission of the Brown Church in the valley. Let's celebrate and worship Christ's ascension and the presence of God's gift of the Holy Spirit in our lives!  Let's walk with Christ each and every day!
God Bless each and every one,
In Christ,
Judy
Diaconate: Judy Workman and Louise Saxby, Co-Chairs;  Beth Campbell, Dawn Vitters, Nancy Divine
Council Connections
     The Council this month was better attended but a few members were on vacation. We had a good month financially in March. The Capital Campaign account finally brought in enough money to reimburse the General checking account for the final campaign expense. We decided to transfer that money back to the Dahl Endowment account to pay back the $5,000.00 that we had to draw from it in February. Hopefully income will remain at March levels so that we don't have to draw more money out of the Endowment to pay bills. I hate to be pessimistic but we will have quarterly payments due in April and May that will probably cause us to draw more money out of the Endowment.
Two issues came up that need to be addressed. The first one, which concerns the condition of the tables and chairs that the church and groups use. The tables are falling apart and the chairs, well let's just say they are almost as old as I am, if not older.  Now that the church is getting back to a more normal state of operations, we need to replace them so that Fellowship after church as well as group use will be safe. We are looking into prices to replace them.
The second item of concern that arose is that the tile in the classroom downstairs is chipping up. This is a hazard as people can easily trip, as well as looking very unsightly. We are looking into prices for carpeting or other options for flooring. The reason I bring this up to you now is that this will require a need for a special appeal for funds. We have some money in the Building Fund account, but that will not be enough to cover both items. You will hear more about this in the coming month.
The topic that took most of the meeting was the preparations for the Spring Fling. Participation so far is very good and we are in need of items to sell for the yard sale. So now is a good time to look around your house and see if there are any items that we could sell. Anne Getchell has been announcing in church each week so check with her about any items that you may have. We are also looking for people to go around to area businesses and solicit items for the pick a prize or goodie baskets that can be sold. We already have the invitation letter and forms for their donations, we just need help in going around and getting the items.
The organ came up since we are hiding it with fabric. It's too far gone to repair. Nancy Divine has been in contact with a business that buys old organs for parts and also tries to sell them on consignment. We hope to have more info next month.
We also decided on a combination tree lighting and one day holiday fair with a turkey luncheon on December 2nd. Stay tuned for more information on that fundraiser and community event. So, crafters, begin making things to sell for that event. We hope to get more village businesses to join us in the tree lighting event. Maybe even do a bit of caroling around the village.
Blessings to all,                    Carl F. Vitters, Moderator
From the Trustees
Welcome to Spring; the Spring Event planning has begun.  We thank those who have taken on the leadership of some of the events.  We will be having a bake sale, yard sale, plant sale, BBQ lunch, crafts, silent auction (Pick a Prize) and themed gift baskets. Looking into also selling
balloons, having children's activities and selling fresh produce. We are still looking for leaders for these.
We are calling this a Connections Spring Event. We will start with meeting with Village businesses to ask if they will donate to the silent auction and/ or make a themed basket. We will encourage visitors to the event to walk the village and support these businesses.
We will also be reaching out to the chamber to connect with businesses outside the village. Our valley has many wonderful businesses and we hope many will provide items to auction or a themed basket.
How can you help?
Would you like to volunteer to help at the event? Can you provide baked items? Do you have items for the yard sale? Are you associated with a business or have a favorite and can ask
them to donate an auction item or themed basket?  Would you lead one of the activities?
If you wish to help out in any of these areas, please contact the office at 603 -447-3851 and Melody will let the Coordinators know.
Trustee Board: Anne Getchell, John Edgerton, Duddie Andrews, Nancy Irving, Nancy Divine and Tom Workman, ex officio member, Treasurer
Spring Event Saturday May 20th
Yard Sale items wanted!
Please donate items in good condition!
We are asking for household items in every category EXCEPT clothing, electronics, and upholstered furniture. Items can be brought to the church during business hours up until May 20th, please call the office, 603-447-3851, to arrange drop off location & time.
Feel free to ask your family and friends to consider donating to our cause – useful items in good condition please!
Bake Sale Items needed!
Please consider baking some items for the Bake Sale. A sign up sheet is available at the church or call the office to let us know what you will be baking for the sale.
Thank you, your support is greatly appreciated!
May is Military Appreciation Month
Congress designated May as National Military Appreciation Month in 1999 to ensure the nation was given the chance to publicly show their appreciation for troops past and present. Military Appreciation Month is a special month for both those in and out of the military. We honor the service and sacrifice of members of the Army, Navy, Air Force, Coast Guard, Marines, National Guard, and the Space Force, as well as the contribution of their spouses.
Not only do we pause on Memorial Day (May 29th) to remember the sacrifice and service of those who gave all, but the month also holds several other military anniversaries and events, including Loyalty Day (May 1st), VE Day Victory in Europe (May 8th), Military Spouse Appreciation Day (May 12th) and Armed Forces Day (May 20th).
We all wish to honor all those who selflessly sacrificed on our behalf. There are those who paid the ultimate sacrifice while serving in the military who we honor on Memorial Day. Those who are currently serving in uniform, we honor on Armed Forces Day and those who served in the past are honored on Veterans Day in November.  These special days are set aside to let us remember our heroes. The holidays are frequently confused and painted with a wide brush of honoring anyone who ever did or does wear the uniform, which in recent years has even included civilian uniformed services.  While it may seem like covering all the bases is the best approach, it is not. I am here to say that those who have served, and those who have lost a loved one, would appreciate everyone learning the difference between these days of honor and the reasons for them.
Memorial Day is a day of Remembrance   
Originally called Decoration Day, Memorial Day is a federal holiday in the United States for mourning the U.S. military personnel who have died while serving in the United States armed forces. It is observed on the last Monday of May.  From 1868 to 1970, it was observed on May 30.
Memorial Day was borne out of the Civil War (which ended in 1865) and a desire to honor our dead. On the 5th of May in 1868, General John Logan who was the national commander of the Grand Army of the republic, officially proclaimed "The 30th of May, 1868, is designated for the purpose of strewing with flowers, or otherwise decorating the graves of comrades who died in defense of their country during the late rebellion, and whose bodies now lie in almost every city, village and hamlet churchyard in the land." Because the day wasn't the anniversary of any particular battle, the General  called it, the date of Decoration Day.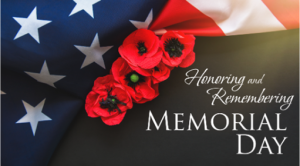 Memorial Day Red Poppies
In 1915, inspired by the poem "In Flanders Fields," Moina Michael replied with her own poem: We cherish too, the Poppy red That grows on fields where valor led, It seems to signal to the skies That blood of heroes never dies. She then conceived of an idea to wear red poppies on Memorial day in honor of those who died serving the nation during war. She was the first to wear one and sold poppies to her friends and co-workers with the money going to benefit servicemen in need.
Later a Madam Guerin from France was visiting the United States and learned of this new custom started by Ms. Michael. When she returned to France she made artificial red poppies to raise money for war orphaned children and widowed women. This tradition spread to other countries. Shortly before Memorial Day in 1922 the VFW became the first veterans' organization to nationally sell poppies. Two years later, their "Buddy" Poppy program was selling artificial poppies made by disabled veterans.
Armed Forces Day is celebrated annually on the third Saturday of May as an annual observance dedicated to the brave individuals currently serving in the United States Armed Forces. It is a day to pay tribute to men and women who serve the United States' armed forces. Armed Forces Day is also part of Armed Forces Week, which begins on the second Saturday of May. On August 31, 1949, Louis Johnson, who was the United States' Secretary of Defense, announced the creation of an Armed Forces Day to replace separate Army, Navy and Air Force Days. The event stemmed from the armed forces' unification under one department – the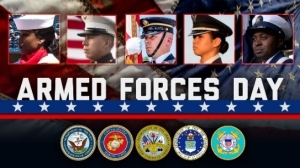 Department of Defense.  The first Armed Forces Day was celebrated on Saturday, May 20, 1950 with parades, military installation open houses, receptions, and air shows.  Armed Forces Day is still celebrated nationwide today in American communities and on U.S. military bases throughout the world with parades, picnics, festivals, parties and discounts.
Military Spouse Appreciation Day was first proclaimed in 1984 by President Ronald Reagan to recognize the profound importance of spouse commitment to the readiness and well-being of our military members. It is celebrated annually on the Friday preceding Mother's Day.
History of Veterans Day
World War I – known at the time as "The Great War" – officially ended when the Treaty of Versailles was signed on June 28, 1919. However, fighting ceased seven months earlier when an armistice, between the Allied nations and Germany went into effect on the eleventh hour of the eleventh day of the eleventh month. For that reason, November 11, 1918, Armistice Day, is generally regarded as the end of "the war to end all wars."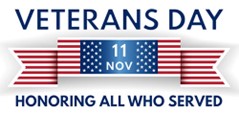 Veterans Day continues to be observed on November 11, regardless of what day of the week on which it falls.  The restoration of the observance of Veterans Day to November 11 not only preserves the historical significance of the date, but helps focus attention on the important purpose of Veterans Day: A celebration to honor America's veterans for their patriotism, love of country, and willingness to serve and sacrifice for the common good.
This month let us all make time to say thank you to a veteran, show appreciation to a service member and honor those who laid down their lives for our freedoms.

"As we express our gratitude, we must never forget that the highest appreciation is not to utter words, but to live by them." — John F. Kennedy
"The willingness with which our young people are likely to serve in any war, no matter how justified, shall be directly proportional to how they perceive the veterans of earlier wars were treated and appreciated by their nation." — George Washington
Join us for Bible Studies.
Women's Weekly Bible Study meets Thursdays at 9:30 am
Men's Weekly Bible Study meets Fridays at 9:00 am
Both groups meet in the Church Conference Room located downstairs next to the church office.
Zoom access is available.
If you would like to more information on either group, please call the office at 603-447-3851 or email  info@thebrownchurch.org
May 2023 Worship Schedule
Sunday, May 7th – Communion
Scripture: Psalm 31:1-5, 15-16        1 Peter 2:2-10               John 14:1-14
Sermon: "One Last Stone"
Sunday, May 14th
Scripture: Psalm 66:8-20        Acts 17:22-31                  John 14:15-21
Sermon: "What Did You Say!"
Sunday, May 21st
Scripture: Psalm 68:1-10, 32-35     Acts 1:6-14             John 17:1-11
Sermon: "Out of this World"
Sunday, May 28th – Pentecost
Scripture:   Psalm 104:24-34, 35b         Numbers 11:24-30       John 7:37-39
Sermon: "If You Believe, Drink!"