We interrupt our busy lives to pause – to step into sacred time.
Receptive, we experience God's still voice; the truth that we are beloved and our lives are a gift.  
We lift our hearts in song, prayer, and thanksgiving; in joyful communion to live the truth of God.
The Brown Church is bringing our Fryeburg Fair favorite direct to Conway Village Apple Crisp is available by pre-order only.
Deadline is 10/1/2020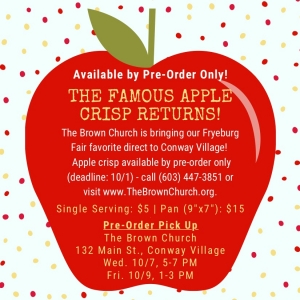 Oven-Fried Chicken & fixings Dinner includes Apple Crisp for Dessert!
Take Out ONLY Wed. 10/7/2020  Hours: 5 – 7 pm
Deadline is 10/1/2020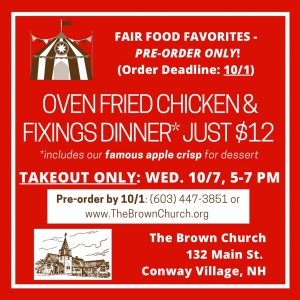 Covid-19 Response Notice
In compliance with the New Hampshire Stay-At-Home Order, we have closed the Church building until it is safe to gather again.
The church doors may be closed but the (browser) windows are open.
We are meeting through Zoom to continue to feed the spiritual needs of our faith community with weekly Worship Services Sundays 10 AM and Bible Studies Fridays 9 AM. If you would like to join us for either or both please add your email address to our list to receive email notifications with the meeting access information.
We also provide food to feed the needs of our community with Our Food Pantry which is open Tuesdays 9 am to 1 pm (by appointment – call 447-3851) and Dinner Bell is serving meals,  Take-out only, Mondays 5-6 PM. These services continue to operate while taking recommended safety precautions and practicing social distancing.
While our building is closed, church staff will be available to answer phone calls, emails and receive mail on Mondays and Tuesdays 8 AM to 2 PM. Church staff will also be checking emails and phone messages remotely on Thursdays and Fridays.
As we distance ourselves from each other, let us draw nearer to God.