Click here to view or download the full PDF version of the
Conway Village
Congregational Church
January 2022
The Good News!
Pastor's Message
A New Opportunity for our Mission
"… because you are precious
in my sight, and honored,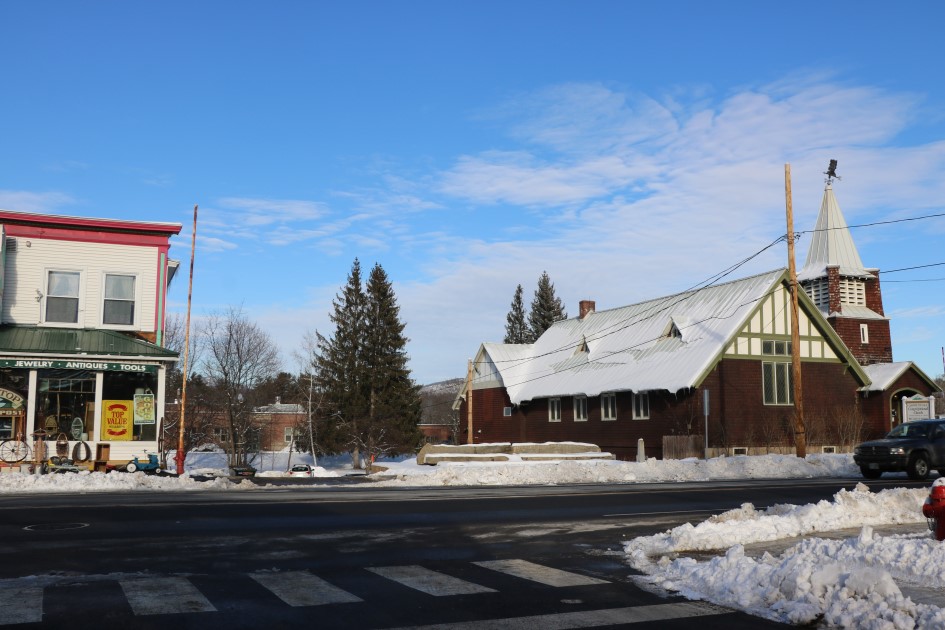 and I love you"
Isaiah 43:4
The prophet Isaiah proclaimed that God would call everyone, "from the east … and from the west … from the north … from the south", to receive a blessing. The reason Isaiah gives for the blessing is "you are precious in God's sight, and honored, and God loves you."
Our church Trustees have spent more than a year reviewing options for the property south of the church (commonly called the "jewelry building property") after receiving a generous donation from an anonymous donor. They have met twice a week for a year reviewing Engineering Reports, Site Evalua-tions, Architectural Requirements, Building Codes, Safety Protocols. The removal of the building opens new opportunities for the church and the community we serve. The property will now be used to increase the width of the driveway to reach a safe standard under engineering requirements.
This will allow people with mobility challenges to access new ADA entrances at the rear of the church building. This action is critical because of new Accessibility Standards issued under the Ameri-cans with Disabilities Act (ADA). These standards are mandatory for "any place of public accommoda-tion, in new construction, alterations, and additions." The ADA Standards are based on minimum guidelines set by the Access Board, which our Church actively looks to meet so those who need our ser-vices will have safe access without physical barriers. We need to plan for wheelchairs (both manual + elec-tric), mobility scooters, walkers, canes and crutches. We presently have several guests/clients/worshippers who require this access.
The Brown Church is called to meet its mission, "the health and welfare of the Mount Washing-ton Valley", by making sure everyone has access to our food and self-help services. As the scripture says, we wish to call everyone, from whatever direction they come, and we wish them to know they are "precious, honored, and loved". Our new crosswalks, wheelchair unloading area, and the handicapped-dedicated parking areas in front of our Church is a beginning. Our future ADA access and parking from the rear of our building helps us complete that mission.
Yours in Christ,
Rev. John Hughes
Outreach ~ Food Pantry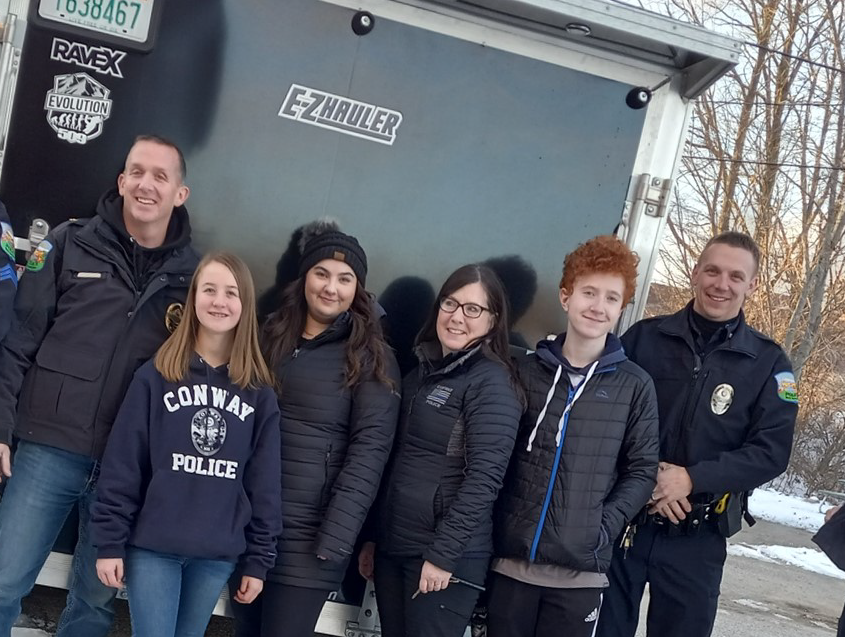 Due to the wonderful generosity of the Conway PD, it was estimated that 1,200 to 1,500 lbs. of food
was dropped off on Saturday, December 4th after a very successful Food Drive they held at Hannaford.
Thanks to a CDBG Community Development Block Grant we were able to purchase a van for the food pantry. Special thank you to Crest Auto World, of North Conway.
Thank you!
Outreach Committee
Chair: Sylvia Weld
Anne Getchell, Charlene Gray, Charles Monaghan, Laura Sorenson, Dawn Vitters,
The Wonder of a Snowstorm
There's something about a snowstorm
It's quietness takes hold.
A serenity engulfs our being
And fills our empty soul.
The flakes ~they gleam like diamonds
That glisten in the sun.
The earth is clothed in rhinestones
And everything is one.
The trees are ladened ~ boughs hang low
Yet they seem to stand on guard.
For us, mere mortals, this we know
Nature paints her Christmas card.
And now our world is dressed
in white Like a bride in full adorn.
We embrace in awe the wonderous sight
Of a pristine landscape born.
The snowstorm passes overnight,
The moon has conquered all.
Like a startled bird it took it's flight
No apology—no fault!
Get out the shovels and the plow
No time to wonder – it's cleanup now!
Mary Russo, Author
From the Deacon's Bench
Happy New Year to all who read this!
The start of each new year is a time to reflect on the year just past, and make plans for this new year.      It holds a special magic with a promise of new possibilities and opportunities to change our lives for the better.  So I will welcome in the New Year by prayers and requests for my family, you my church family, and my friends.   And given how challenging 2021 has been for us all with Covid-19, it feels especially important to express our hopes and dreams for better days in 2022.    A verse I found in the bible Jeremiah 29:11 reminded me the Lord's words of his plans for us:
"For I know the plans I have for you",  declares the Lord, "plans to prosper you and not to harm you, plans to give you hope and a future."
So I may set the coarse of my plans, but God will determine my steps.  Then I also read Phillippians 4:6-7 that says:
"Do not be anxious about anything, but in every situation, by prayer and petition, with thanksgiving, present your requests to God.    And the peace of God, which transcends all understanding will guard your hearts and your minds in Christ Jesus."
Here's a prayer I found for New Years Eve that I will use this year. As the dawn breaks on a new year, let us give thanks for all we hold dear; our health, our families and friends. Also our Country!
Let us release our grudges, our anger and our pains, for these are nothing but binding chains.
Let us live each day in the most  loving and joyful ways (our Saviour's way).          Amen
Diaconate:  Louise Saxby, Mitzi Fitch, Judy Workman, Dawn Vitters, Suzanne Rancourt, Beth Campbell
From the Trustees
Volunteers  …….are so important to the church.
You will see them weekly, helping out in the Food Pantry, the Dinner Bell and most recently the November Take Out dinner.  There are behind the scenes volunteers who run the weekly Sunday ser- vices in house and online.
There are opportunities to help out if you are interested.
The next event is the take-out Turkey Dinner December 15th. These dinners have been very successful and are needed to help support the church budget. An online volunteer sign up will be coming out in early December or you can call the office. Thanks in advance to all.
The Trustees continue to work with the architect and Bergeron  Technical Services. We are working on renovation details room by room which will help us refine cost estimates.
We are finalizing the 2022 operating budget. Your pledges for the upcoming year help us with that process. If you have not made your pledge for 2022, please do so soon.  If you need a pledge card, you can contact the church office.
The Annex (old jewelry store) will be demolished, likely before the end of the year. After many discussions with Shawn Bergeron, it was determined that the building is a hazard and the cost to renovate the building for use would be cost prohibitive. The removal of the building will also improve access to the food pantry and parking out back.
Thank you to all the Trustees and those on the Capital Campaign for volunteering their time week after week.
Trustees:
Chairs: Anne Getchell, Nancy Divine
Duddie Andrews,  John Edgerton,  Nancy Irving,  Paul Weld,  Tom Workman
Ex-officio member Carl Vitters – Church Treasurer
CVCC Men's Bible Study Mourns Losing Member
Mills Fox Edgerton Jr. of New Haven, CN, passed away peace- fully on Dec. 6, 2021. He was born in Hartford, Connecticut on June 11, 1931, to the late Mills Fox and Miriam (Reynolds) Edgerton.
He earned his master's degree and doctorate at Princeton University; his undergraduate work was completed at the University of Connecticut and included studies at the National Autonomous University of Mexico.
Mills then embarked on a career in higher education, teaching at Princeton  University and Rutgers University before accepting a tenure track position at Bucknell University in 1960. He served as a professor of Spanish as well as chairman of the university 's
department of modern languages, literature and linguistics. He proudly served as director of the Bucknell University Press from 1976 to his retirement in 1997.
In addition to his work at Bucknell, Mills held several positions associated with Middlebury College, including director of the Middlebury College Spanish program in Madrid, Spain
from 1971 to 1972 and the Middlebury College Intensive Language Program in 1973. He served as the interim director of the Madrid Center of the Institute of European Studies from 1993 to 1994.
After retiring from academia, Mills established himself as a renowned poet and author in Europe, publishing over 40 books in Spain and France. In recent years, he spent about half of his time in Spain. He looked forward to each trip and was very happy to be there one last time in the fall of 2021.  Mills received numerous awards and recognition throughout his life of teaching and writing, including the Alexander von Humboldt Foundation grantee in 1961, the Lindback award for distinguished teaching in 1971, first prize Prix Vitrail Francophone from the Society of Poets and Artists of France in 1997, the 2019 Stefan Zweig prize for biography from publisher Sial Pigmalion and a lifetime achievement award in 2021 from the editorial board of Sial Pigmalion.
He was predeceased by his wife, Marianne Simonson Edgerton and his son, Nicholas Mills Edgerton. He is survived by his son Michael Andrew (Lisa) Edgerton of Guilford, Connecticut; his brothers, John David Edgerton of North Conway, New Hampshire; and James Merwyn Edgerton of Eliza- bethtown, Kentucky; daughter-in-law Elizabeth Edgerton of Kalamazoo, Michigan; grandchildren, Peter (Anshumita) Edgerton of Carolina, Puerto Rico; Christopher (Heena) Edgerton of Branford, Connecticut; Samuel Edgerton of Brooklyn, New York; William Edgerton of Kalamazoo, Michigan; and Lily Edgerton of New York, New Hampshire. He is also survived by his great-grandson Liam and numerous nieces and nephews.
Courtesy Conway Daily Sun
 ~ Food Pantry Needs List  ~
Food Pantry Wish List 1
Ramen Noodles-Chicken and or Beef Rice-A-Roni-Chicken or Beef
Ketchup – 20 oz.
Mustard – 20 oz
Mayo – small jar
Stable Milk 32 oz.
Juice – orange or apple 64 oz.
Chicken Broth
Soup (small) – Chicken Noodle or Tomato
Canned Fruit -15 oz – any kind
Jelly – 16 oz. grape or strawberry
Canned Chicken and Tuna 5 oz.
Food Pantry Wish List 2
Canned Chicken and Tuna 5 oz.
Baked Beans – 15 oz. – any kind
Canned Pasta – 15 oz., any kind
Diced Tomatoes – 15 oz.
Tomato Sauce – 15 oz.
Pasta Sauce – (can) 15 oz.
Pasta Sauce – (jar) 32 oz.
Beef Stew – Can or Pouch
Boxed Spaghetti – 1lb.
Boxed macaroni – elbow 1lb.
Crackers – 1lb.
Food Pantry Wish List 3
Canned-Peas, Carrots, Green Beans, and corn – 15 oz.
Cold Cereal – 10.8 oz any kind
Instant Oatmeal – 1lb.
Paper Towels
Toilet paper – individually wrapped
Shampoo – White Rain or Suave – 24 oz.
Dawn Dish Detergent- small size
Laundry Detergent – Tide-small size
Lg. Laundry Detergent – Dollar Tree brand in green container
Hand Soap – Dial 2 or 3 pk bars
January 2022 Worship Schedule
Sunday, January 2, 2022 – Communion
Psalm 147:12-20
Scripture: Jeremiah 31:7-14
Ephesians 1:3-14
John 1: (1-9), 10-18
Sermon: "What's the Big Idea?"
Sunday, January 9, 2022
Baptism of Jesus
Psalm 29
Scripture: Isaiah 43:1-7
Acts 8:14-17
Luke 3:15-17, 21-22
Sermon: "I am Well Pleased"
Sunday, January 16, 2022
Psalm 36:5-10
Scripture: Isaiah 62:1-5
1 Corinthians 12:1-11
John 2:1-11
Sermon: "Understanding the Flow of Things"
Sunday, January 23, 2022
Psalm 19
Scripture: Nehemiah 8:1-3, 5-6, 8-10
1 Corinthians 12:12-31a
Luke 4:14-21
Sermon: "Why do You Persecute Me?"
Sunday, January 30, 2022
Psalm 71:1-6
Scripture: Jeremiah 1:4-10
1 Corinthians 13:1-13
Luke 4:21-30
Sermon: "What Just Happened to Me?"
January 30th service followed by CVCC Annual Meeting