January 2023 Newsletter
~ The Good News ~
Please click the button below to open or download the full (pdf) newsletter.
Newsletter articles and highlights are published below.
Members and Friends of the Conway Village Church are invited to attend our annual meeting, all are welcome.   Only church members may vote.
NOTICE OF ANNUAL MEETING
TO: All Members and Friends of the Conway Village Congregational Church
The Annual Meeting of the Membership of the Conway Village Congregational Church will be held on Sunday, January 29, 2023, at approximately 11:00 am in the Sanctuary of the Conway Village Congregational Church after worship. The meeting will be held in person and via Zoom platform. Voting will be done via roll call method. Please email cvccwebteam@gmail.com or
call the office for the phone in information. The purpose of this Annual Meeting will be:
To hear reports of the officers, board and standing committees for the preceding
To approve a Budget for
To elect officers, board and standing committee members for
To conduct any other business that may come to the floor of the Dated at: Conway, New Hampshire, on the 22nd of November 2022
Dawn Vitters, Clerk
Trustees
Hoping everyone had a wonderful Christmas with family and friends. As 2022 comes to an end, and we look back, the Brown Church should be proud of all it has done this past
year.  Despite continued Covid-19 concerns and the economy, we were able to provide food to those in need by dedicated volunteers in the Food Pantry and Dinner Bell. The building continues to be used by a number of groups. Sunday service attendance has increased and a number of new people are attending both in the church and on zoom.
When working at the food pantry recently, a gentleman said, "this church is the one that does a lot for the community". He recently moved to the area from Maine and was new to the pantry. He was emotionally thankful for what the food pantry provided him with that day.
Comments like these are heard often and are a reminder of who the Brown Church is to the valley.
As we begin 2023, the church still has its challenges, financially and with the building structure. The trustees always welcome thoughts and ideas from the congregation.
The Annual Meeting is on January 29th after church. We hope all members and friends will attend whether in person or on zoom.
In preparation for the meeting, the leaders of the church will have a planning session in early January. We are challenged with a deficit budget and building concerns and will begin working on a 2-5 year plan.
Wishing you a Happy New Year and blessed year ahead.  May God's light guide your way in 2023.
Anne Getchell
Trustee Chair
Board of Trustees: Duddie Andrews, Nancy Divine, John Edgerton, Anne Getchell, Nancy Irving, Tom Workman
Outreach
WOW!! The last few months have been a busy time for the Food Pantry! Paul and I attended the New Hampshire Food Bank Volunteer Luncheon in Concord and picked up shipments of food offered to our Pantry from NH Food Bank and USDA.
December turned out to be a very busy month with the normal deliveries on Mondays as well as Food Bank and USDA deliveries; all the generous donations we received and all of the food were given out to those in need.
We gave out bags for Thanksgiving this year, including all of the fixings, a $25.00 gift card from Shaws and a $20.00 gift card from Hannaford in place of the turkeys. Thanks to all who helped on this project.
Conway Elementary students gave us a visit bringing with them an incredible amount of donations from their Annual Food Drive. In addition, the NHFB contacted our Food Pantry to see if we wanted to get bags from Walmart, part of the WMUR Channel Spirit of Giving Food Drive. We picked up sixty bags, which were then brought to the church to be sorted and put on pantry shelves!
What a wonderful Community we are a part of, people helping others. The Outreach Committee wishes all the Happiest New Year in 2023.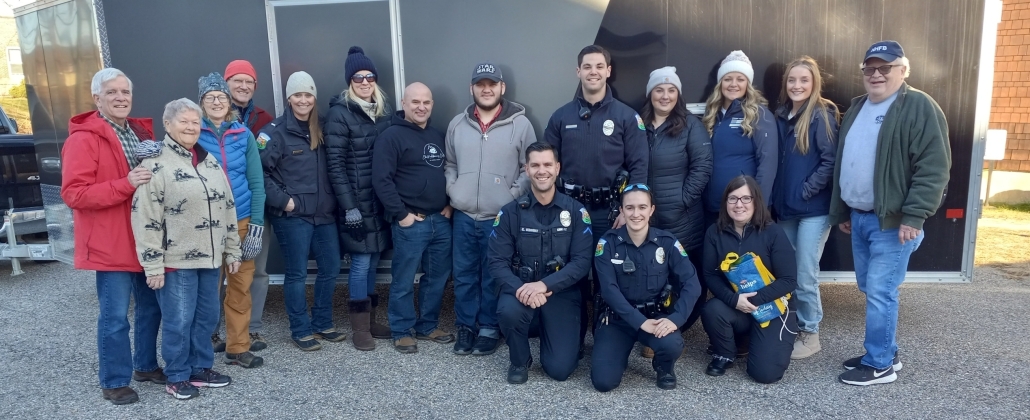 God Bless, Take Care and Stay Safe.
Sylvia Weld
Outreach Committee
Charlyne Gray, Charles Monaghan, Anne Getchell, Dawn Vitters , Marilyn Hughes, and Sylvia Weld
Food Pantry Shopping List
Ramen Noodles-Chicken and or Beef
Rice-A-Roni-Chicken or Beef
Ketchup, Mustard – 20 oz
Mayo – small jar
Stable Milk box – 20 oz.
Juice – Orange or Apple – 64 oz.
Small Soup – Chicken Noodle or Tomato
Jelly – Grape or Strawberry – 16 oz.
Small canned Chicken or Tuna – 5 oz.
Baked Beans – 15 oz.
Tomato Sauce – 15 oz.
Beef Stew – Canned – 15 oz.
Boxed Crackers – 1 lb.
Boxed Spaghetti – 1 lb.
Canned Veggies – Peas, Carrots – 15 oz.
Instant Oatmeal – 1 lb.
Paper Towels,
Toilet paper – individually wrapped
Shampoo – White Rain or Suave – 24 oz.
Dawn Dish detergent – small size
Tide Laundry Detergent – small size
Large Laundry Detergent
Hand Soap – Dial 2 or 3 pk bars
Diaconate Message
Through the years as we approach a new year, many of us look back at the past year and decide to make an effort to improve ourselves as the new year begins. Approximately 38.5% of U.S. adults make New Year's resolutions. While looking up these statistics, I found an interesting fact. The first New Year's resolutions began 4,000 years ago in Babylonia. However, the New Year was not celebrated until mid-March to the first of April as a part of a 12-day Akitu Festival of their spring barley harvest.
Most recently, the top 3 resolutions tend to be health related; to exercise more, to eat healthier, and to lose weight, (48%, 44%, 41%). Spending more time with family/friends ranked 4th, (34%). This was followed by the desire to live more economically, 24%, spend less time on social media, 21%, reduce stress on the job, 21%, and quit smoking, 20%. There was no mention of increased church attendance or helping others or contributing to charities. I wondered what the Bible had to say about making an effort to start over. The following verses are just a few that give us an indication of God's thoughts about new beginnings:
 "But those who hope in the Lord will renew their strength, they will soar on wings like eagles; they will run and not grow weary, they will walk and not be faint.                         Isaiah 40:31
"Trust in the Lord with all your heart and do not lean on your own understanding; in all your ways acknowledge him and he will make straight your paths."          Proverbs 3:5-6
"Do not be anxious about anything, but in every situation, by prayer and petition, with thanksgiving, present your requests to God.  And the peace of God, which transcends all understanding, will guard your hearts and your minds in Christ Jesus."           Philippians 4:6-7
"I lift up my eyes to the mountains—where does my help come from? My help comes from the Lord, the Maker of heaven and earth. The Lord will watch over your coming and going both now and forever."         Psalm 121
Let us live by faith, trusting in God through uncertainty and difficult times. May God bless you with a new beginning in the new year of 2023!
In Christ,
Judy
 Diaconate: Dawn Vitters and Judy Workman Co-Chairs,
Beth Campbell, Suzanne Rancourt and Louise Saxby
Opportunity to serve
The Diaconate thanks all of those who are signing up to bring food items for the after-church Coffees. We currently have a host for the 1st and 2nd Sundays of the month. We are also looking for "Hosts" for the 3rd and 4th Sundays of the month. What does it mean to be a host? The host brings an item or two, makes the coffee, sets up the food and drinks and cleans up after. Many times, the people who signed up to bring food will assist with the cleanup.
If you have any questions about being a Coffee host, please contact one of us and we will gladly work you through it.
Judy Workman ~ Deacon of the Month                                                                                    
January Worship
 
Starting this Sunday, January 1st, we will be using a new
Zoom Meeting ID Number and passcode for Sunday Worship Services

Meeting ID:   832 6656 0783
Password:  074610
Sunday, January 1st – Communion
Scripture:      Matthew 2:13-23                Psalm 8
Sermon: "Get Up! Get Out!"
 
Sunday, January 8th
Scripture:    Psalm 29             Isaiah 42:1-9           Acts 10:34-43
Matthew 3:13-17 Sermon: "Let It Be"
 
Sunday, January 15th                                                                                     
Scripture:      Psalm 40:1-11           Isaiah 49:1-7          John 1:29-42
Sermon: "A Mouth Like a Sword"
 
Sunday, January 22nd                              
Scripture:      Psalm 27:1, 4-9               Isaiah 9:1-4          Matthew 4:12-23
Sermon: "For unto Us is Given a Son"
 
Sunday, January 29th                                
Scripture:   Psalm 15              Micah 6:1-8            Matthew 5:1-12
Sermon: "All Rise … You May be Seated"