Click here to view or download the full PDF version of the
Conway Village
Congregational Church
August 2021
The Good News!
Pastor's Message
"Restore , our Fortunes, O God"
"Restore our fortunes, O Lord, like
the watercourses in the Negeb . . ."
Psalm 126:4
Psalm 126 rings true for us today. The Psalm calls out to the Lord of all Creation to restore the com- munity's past fortunes, "like the streams in the Negeb". The watercourses of the Negeb are dry beds, wadis in the desert, that become overflowing with water in the rainy, Spring season, the season of new life. Negeb is a Hebrew word literally meaning "dry". The Psalmist's cry is for a people who have just gone through a 'dry period', a life in exile. They have been barren of inspiration, devoid of an animating spirit, bone-dry of vital, spiritual life for such a long time!! The Psalmist prays for a time restored, a time that seems "too good to be true"! The Psalmist pleas to God to replenish people with blessings, of which people can now only remem- ber as a faded dream! This is a desperate thirst for God's abundance!
We all have known 'dry periods' in our lives, but for many, none has been so acute and long-lived as the Pandemic through which we have just come. We wish to feel reinvigorated, restored. As the Psalmist says, "to have our tears become songs of joy". We hope to have God bless us, so we will have to pinch our- selves to realize it's true!
Experts are looking at what the Pandemic has left behind – – depression, disillusionment, rage, long- haul suffering, mistrust, and fear. People want to taste the 'Good Life' once again, yet there is a lingering uncertainty. As we are calling the groups that have always worked for the health and wholeness of our com- munity, there is a hesitation to begin again. We are experiencing a 'lag time', a time when people 'wait and see', seemingly unable to act with confidence.
To the author of Psalm 126 it is clear what is needed – – a rebirth of trust, an assurance it's safe to dream of and act upon new life. The Psalmist realizes this world does not offer this assurance – – it only comes to those who have a true and certain faith in the God of Grace.
Waiting confidently upon our future,     
Rev. John Hughes
<'}><  <'}}><<  <'}}}><<<< [/av_textblock] [/av_one_half] [av_one_half min_height='' vertical_alignment='av-align-top' space='' row_boxshadow_color='' row_boxshadow_width='10' margin='0px' margin_sync='true' mobile_breaking='' border='2' border_color='#0028f4' radius='15px' radius_sync='true' padding='15px' padding_sync='true' column_boxshadow_color='' column_boxshadow_width='10' background='bg_color' background_color='' background_gradient_color1='' background_gradient_color2='' background_gradient_direction='vertical' src='' attachment='' attachment_size='' background_position='top left' background_repeat='no-repeat' highlight_size='1.1' animation='' link='' linktarget='' link_hover='' title_attr='' alt_attr='' mobile_display='' id='' custom_class='' aria_label='' av_uid='av-57gmnt'] [av_textblock size='' av-medium-font-size='' av-small-font-size='' av-mini-font-size='' font_color='' color='#ffffff' id='' custom_class='' av_uid='av-a3sd6h' admin_preview_bg='']
From the Trustees
Hopefully we will see more sun this month, but our lawns are green again!
Thank you to all members who attended the Special Meeting on July 18th, both Zoom and in the church. The trustees had to revise the 2021 budget due to changes with regards to Covid. Now that the church is open, building use can resume. Not all groups are returning; some found new space or are only holding online meetings. If anyone is part of a group that needs space or has an event that could use space and possibly a kitchen, please call Melody.
The Capital Campaign Committee meets regularly and the plans for the church upgrades are coming along. We hope to be able to present all to the congregation in the fall. If anyone has ques- tions at any time, please contact a Trustee and we can go over what we have so far. This dedicated group of church members has been working hard and their efforts are very much appreciated.
The Fryeburg Fair volunteer sign up has gone out via e-mail. Please take a look at it and see if you can plan to help. It takes many to prepare the crisp and man

the booth. It is the church's big- gest fundraiser. If you do not get the e-mails, please call the office and Melody can review with you.
Trustees:
Chair: Anne Getchell
Duddie Andrews,  John Edgerton,  Nancy Irving,  Paul Weld, Tom Workman
Ex-officio member Carl Vitters – Church Treasurer
To all the wonderful people at the Brown Church ~
How can I thank you for all the cards, letters and words of support that you sent me over the past 6-8 months. I'm not very good at asking others for help, but you folks have been so supportive in every way, whether it was helping with Dinner Bell or helping to keep my spirits up with encour- aging words.
It has been a long haul since last November when I sought help for a deteriorating hip. Then a heart problem appeared and had to be resolved before hip surgery was possible. Several postponements later, I had a total hip replacement on Thursday, July 8th.
When I awoke from surgery, I had less pain than over the last 6 months. So, things are certainly looking up for me. You folks have been through all of this with me with your prayers and sup- port. Thank you so much!
I plan on being back helping at the Dinner Bell as soon as possible. So many people have stepped up to keep things going smoothly and we're so grateful. Again, thank you for you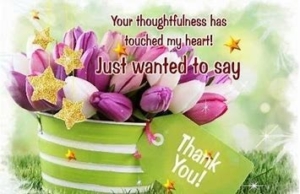 r prayers and support. I'm finally on the mend.
Much Love, Barbara Hoyt
 ~ Food Pantry Needs List  ~
Food Pantry Wish List 1
Ramen Noodles-Chicken and or Beef Rice-A-Roni-Chicken or Beef
Ketchup – 20 oz.
Mustard – 20 oz
Mayo – small jar
Stable Milk 32 oz.
Juice – orange or apple 64 oz.
Chicken Broth
Soup (small) – Chicken Noodle or Tomato
Canned Fruit -15 oz – any kind
Jelly – 16 oz. grape or strawberry
Canned Chicken and Tuna 5 oz.
Food Pantry Wish List 2
Canned Chicken and Tuna 5 oz.
Baked Beans – 15 oz. – any kind
Canned Pasta – 15 oz., any kind
Diced Tomatoes – 15 oz.
Tomato Sauce – 15 oz.
Pasta Sauce – (can) 15 oz.
Pasta Sauce – (jar) 32 oz.
Beef Stew – Can or Pouch
Boxed Spaghetti – 1lb.
Boxed macaroni – elbow 1lb.
Crackers – 1lb.
Food Pantry Wish List 3
Canned-Peas, Carrots, Green Beans, and corn – 15 oz.
Cold Cereal – 10.8 oz any kind
Instant Oatmeal – 1lb.
Paper Towels
Toilet paper – individually wrapped
Shampoo – White Rain or Suave – 24 oz.
Dawn Dish Detergent- small size
Laundry Detergent – Tide-small size
Lg. Laundry Detergent – Dollar Tree brand in green container
Hand Soap – Dial 2 or 3 pk bars