Although there won't be a Fryeburg Fair this year, our Famous Apple Crisp will be available for sale.  We will be selling Apple Crisp by the cup (same as the fair serving) and by the pan. The pans will be 9 x 6 pans for you to enjoy at home and maybe to share with your family. Sorry, but you will have to provide your own ice cream.
October 7th, yes that is Wednesday, 5 pm to 7 pm we will be serving Oven Fried Chicken Dinner To Go at the church front entrance with apple crisp as the dessert.
We will be selling both the Apple Crisp and the Dinner by pre-orders only. You will be able to preorder from Facebook, our website or by calling the church. You may choose to pay in advance online or pay via cash or check at the church when you pick up your crisp.
Please reserve your dinners and apple crisp in advance.
Our previous to-go dinner sold out a week prior to the event. 
Order deadline is October 1st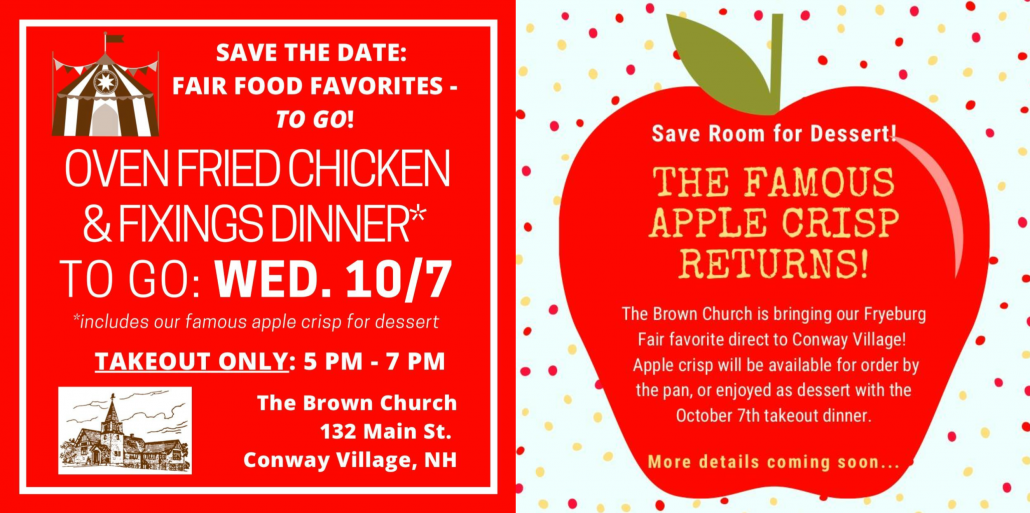 You may pick up your apple crisp either during the dinner on Wednesday, October 7th between 5pm and 7 pm, or Friday, October 9th between 1pm and 3 pm.
When placing your order please select your preferred pick up date.
Dinner           $12
Apple Crisp single serving           $5
Apple Crisp Pan          $15
Watch for more information to follow on facebook, instagram and this website.
Like or Follow us on Facebook and Instagram to receive event notifications.