A bit more about Rev. Hughes…
Rev. John Hughes started sharing the ministry of the Conway Village Congregational Church, June 2017, when he began as our Transitional Pastor. He came to study our church's spiritual transformation and shared ministry in the health and welfare of the greater Mount Washington Valley.
Pastor John, in his early years, was part of the Camp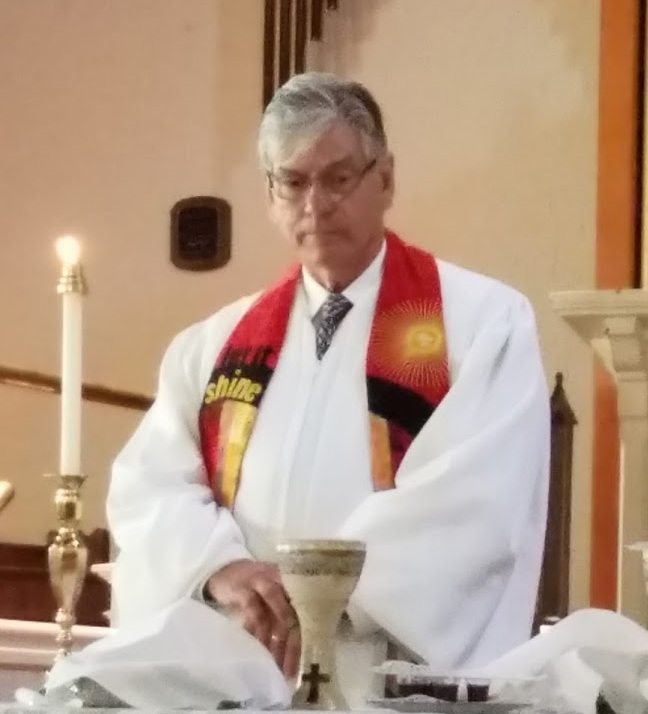 Tohkomeupog experience (camper + then staff) in East Madison, NH, during the summers, and skiing and then teaching Ski School at King Pine Ski Area, during the winters.  During his ministries as pastor of the First Congregational Church, Billerica, MA (7 yrs. of ministry) and the First Parish Church, Congregational, Manchester-by-the-Sea, MA (37 yrs. of ministry), he brought youth groups to the Conway Village Church to sleep on the downstairs floor for ski weekends.  Rev. Hughes is qualified to be pastor as he has climbed all New Hampshire's 4-thousand-foot mountains!
Raised in Fall River, MA, John graduated Pre-Med, Lafayette College, Easton, PA, before receiving his degree in theology from Andover Newton Theological School, Newton Centre, MA. He was involved in the chaplaincy at Tewksbury, Boston City, and Beverly Lahey Hospitals through the Clinical Pastoral Education Program.  While John's primary focus has always been Parish Ministry, he has created Permanently Affordable Housing in Gloucester, Homeless Shelters at Emmaus House in Haverhill, taught Psychology in public High School, fostered youth and missionary exchanges with the Pentecostal Church of Chile, and served as a Massachusetts Delegate and created youth and adult exchanges with the EKU/UEK churches of Germany.  His training to help churches for "Designated Projects for Designated Terms" is from the Intentional Ministry Network, Baltimore, MD.
John's ministry at the Conway Village Congregational Church will be helping with an upcoming Capital Campaign for building, property, and service/mission development, which is possible through a covenantal relationship between the Mass Conference, the New Hampshire Conference, and the Conway Village Congregational Church. John is married to Marilyn – – they raised 6 children and are enjoying their 9 grandchildren – – they are praying for more!